The expert capacities of "Garage Door Repair Addison" are not limited to garage door services. Our company extends its services to all gate needs as well. Both these mechanisms require excellent attention during installation and professional repair and maintenance services and we are happy for being able to cover the needs of our customers efficiently. Our modern infrastructure is a big plus for our company, which never stops growing and improving in relation with the demands of the latest openers and consequently has the knowledge to assist you with knowledge. We have extraordinary powers and all means required to service both your systems perfectly and on time.
Need gate service? Count on us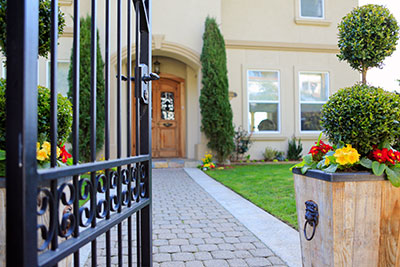 We offer all the services that your gate needs in order to last long, withstand torture from elements and be a good solution for safe access to your driveway. We cover them all with knowledge and great experience and are available for:
Automatic gate operator services
As experts in electric gate repair, we give great emphasis on the condition of the operator and all its parts. We are interested to see that the automatic movement of the gate is done at the right speed, properly and safely. We repair any problem with the sensor and make adjustments to ensure proper movement.
Gate wheels repair
Wheels are really important parts since they make movement possible. Although they are main components for rolling gates, they are also useful for heavy swing ones as well in order to release some of the weight burden from the hinges. In either case, we can tighten and lubricate them, replace their brackets and the rollers themselves if they are damaged.
Driveway gate adjustment
We adjust all gates by setting the limit force, tightening swing gate hinges, checking the tension of the sliding gate chain and examining the condition of all fasteners. They all must be tight enough to provide the required steadiness and we are available on a same day basis for adjustment.
Gate opener keypad replacement
If you have problems with your current keypad, we can replace it with a new one. We are experts in all branded keypads and know which ones are compatible with each operator. Also, we take into account the possibility that our customers might need intercom installation as well and in this case, we follow the necessary procedures in order to connect both keypads and intercoms well.
Emergency repair services 24/7
Our company is an emergency contractor and offers repair services 24/7. We acknowledge the value of speed when you are dealing with broken gate parts or the reverse mechanism is problematic. In our attempt to prevent accidents and help you avoid problems, we keep every company truck ready to go and we leave right away. We troubleshoot problems and fix them at once.
You can rely on the good work of our technicians every time you have trouble closing the gate or suspect there is something wrong with the operator. We fix all parts equally well and we are the perfect installers for all new products. Our job is to assist you via repair and installation services and rest assured that we know our job well. We engage in every task with the same zeal and concentration and make sure of your safety and satisfaction. Don't hesitate to email us your concerns!